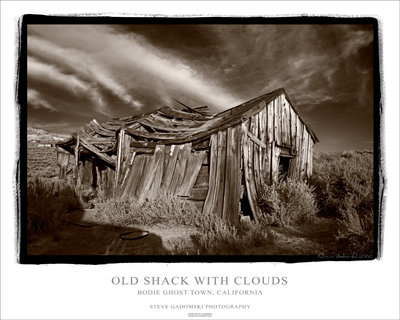 September 28, 2006: I have launched a new commercial site.
www.stevegadomski.com
Posters featuring my fine art landscape photography are now available with secure PayPal shopping cart technology. Please visit today!
August 1-31, 2006: I have 2 photographs in the Oak Park Photography Club group show at Oak Park Public Library. This years theme is the old classic:
A Sense of Place
. The photographs I am exhibiting are
Moon, Waxing Gibbous
, and
Cana Island Light, Night
. They are also available for purchase as posters through my commercial gallery space at the link below:
April 4, 2006: This week Triton College in River Grove, Illinois announced the winning entries for it's 25th annual
Salute To The Arts: Poetry and Graphics Competion
. I am pleased to all have 3 photographs I entered be judged as winning entries. My selected entries were:
Delicate Arch with Star Trails
,
Emerald Pools Falls
and
Monument Valley Spire
. All of these award winning photographs are available for purchase at my
commercial print gallery at Art.com
. This contest had hundreds of entries from around the world. Entries were even received from Pakistan and Sri Lanka!
March 30, 2006: I am pleased to announce the availability of my landscape photography in J'Marc Gallery in Lake Geneva Wisconsin. J'Marc Gallery has been in this upscale southern Wisconsin resort town for over twenty years. It is located in the main business district at 736 Main Street, Lake Geneva, Wisconsin. The phone is 1(800)433-2443. Please stop by J'Marc Gallery when in Lake Geneva. They also ship purchases anywhere. J'Marc Gallery is carrying my new poster line as well as fine art edition images of the Chicago landscape. They do not have a web site.
November 7, 2005: Come to the
Oak Park Public Library
for a free presentation I will be giving on landscape photography.
Four Corners and Beyond: Crafting the Image of the Great American Southwestern Landscape
This talk will be in support of the November show listed immediately below. This event will occur in the Veteran's Room at 7 p.m. I will discuss landscape photography composition and lighting. This will be followed by a digital projection demonstration of my Photoshop workflow techniques.
November 2005: Solo fine art show of my black & white landscape photographs at Frame Warehouse in Oak Park, Illinois. Opening wine and cheese reception will be on November 4, 7-9 pm (Friday!!) . This show will feature 32 recent digitally reworked prints Most of the prints are from original medium format black & white negatives shot in the mid 1990's. Four of the prints will be from more recent digital captures. Three large scale framed prints will also be shown. All images will be available for purchase. The show runs November 4(2005) - January 4 (2006). The Frame Warehouse is located at 346 Harrison St., Oak Park, Illinois. Come on Out!
September 28, 2005: I will be speaking about outdoor landscape photography at the Niles, Illinois REI outdoor sporting equipment supply store. This event will begin at 7 p.m. It should last about an hour. I will be selling and signing my new special edition landscape posters following the talk. These archival posters will be available for $20.00 each (unframed). Come on out!
July & August 2005: Group photography show at Oak Park, IL. Village Hall. My print contribution is a black & white sand dune scene photographed in 1995 in Death Valley National Park.
August 2005: Group photography show Oak Park, IL. Public LIbrary in the 2nd floor Art Gallery. I will have 2 images in this show. Both are color sunset views of the Chicago skyline.
Chicago Sunset By Boat is a view from my friend's boat, about 4 miles out in Lake Michigan. This spectacular sunset image was photographed Labor Day 2004.
Chicago Nightlight is an evening view from the top floor of a parking structure on the west side of Chicago. This special image was created from a composite of 8 long exposure digital images. Photographed February 2005.
November 13th 2004: I will be heading out to Santa Fe, New Mexico to study with digital master photographer
John Paul Caponigro
for a full, intense week. After the
Santa Fe Workshop
I will spend some time photographing in Monument Valley, Arches and Canyonlands national parks.
Monday August 23, 2004: At 7:00 pm I will be leading a gallery walk for the Oak Park Photography Club. The club has an August exhibit at the Oak Park public library featuring recent photographs by Club members. I will be offering comment, critique and encouraging discussion.
June 14th 2004 -I will be giving a 30 minute talk on select images from this site at the Oak Park Public Library, Oak Park, Illinois. The talk is being hosted by the
Oak Park Camera Club (OPCC).
It will occur in the Veterans room on the second floor. The OPCC, founded January 2004, hopes that new members will attend. Please attend this special event.